Dance
WHY DANCE?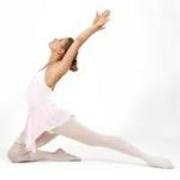 What We Do:
• Provide educational classes in Interpretive, Modern and Jazz Dance
• Maintain age appropriate classes for students in grades K - 12.
• Create a fun social environment where students feel free to express themselves
• Provide the foundation of basic skills to pursue a professional career in dance, if desired
• Provide teachers who are professionally trained and are sensitive to the unique needs of each individual student.
• Provide structured lessons with plenty of review to help the students retain what they have learned
Anyone can dance. If you can put one foot in front of the other, wave your arms from left to right or move your head up and down then you can dance! Dance is simply movement of the body to a rhythmic pattern. Everyone can dance, some people may just have different rhythms. That's what makes the world so unique and exciting!
We know that most people love to dance and, given the proper environment that is encouraging, fun and respectful, you will learn valuable lessons and skills that will last a lifetime.
333
Benefits
• Muscle tone and flexibility is increased and improves coordination and posture
• The mind is thoroughly engaged as the dancers move proactively around the dance floor thus strengthening thought processes
• Dance education cultivates self discipline, motivation and the ability to work in a group which they learn to apply later in life and career
• Dance socialization exposes individuals, especially our youth to other cultures, increasing self confidence and self esteem. It helps you to become relaxed and confident in front of a group.
• Dance teaches basics of performance
• Culturally dance education exposes individuals to many styles of music, and cultivates love of music
• Dance gives individuals a rich experience in self-expression where they find beauty in form, repetition, movement and coordination
• Dance plays a significant role in helping individuals, especially our youth become happy, confident and well adjusted as they grow into adulthood.