Creative Writing
The Power of The Pen...
What Is Creative Writing?
Creative writing is writing that expresses the writer's thoughts and feelings in an imaginative, often unique, and poetic way. Creative writing is guided more by the writer's need to express feelings and ideas than by restrictive demands of factual and logical progression.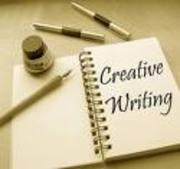 Creative writing allows you to:
• assert your demands
• cement a friendship
• channel your emotions
• declare your love
• entertain others
• express your feelings
• explore yourself
• free yourself from inhibitions
• inspire others to create
• move others to action or belief
• pledge your support
• raise your self-esteem
• rouse others to action
• settle disputes, even wars!
• stretch the boundaries of the form
• travel the road to self-discovery
• vent your frustrations
• boost your creativity
• communicate your ideas
• cope with traumatic loss
• display your inventiveness
• evaluate something
• explore an idea
• find solace in a confusing world
• interpret information
• make a difference in the world
• persuade others
• promote self-understanding
• report information
• record a memory
• share your artistry
• tap into the well-spring of your energy
• wash away bitterness
• work through anger and despair
Creative writing is self-expression, liberation from the constraints of everyday life. And when you write, you are strong!